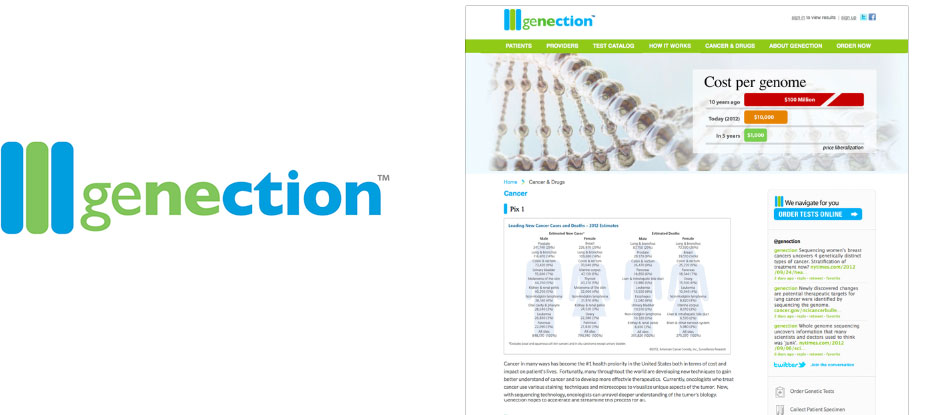 After working with Invivoscribe on several projects, I was brought in on the ground level to strategize on a new endeavor. The concept: A singular point of access to connect all genetic tests, from multiple labs across the country with hospitals, physicians, and patients. An ambitious and exciting project and the first of its kind to effectively bring thousands of genetic tests offered through a myriad of labs worldwide into one centralized location, where physicians and hospitals could order genetic tests, monitor results and share (with a patients permission) specific results with other specialists across a hospital network. A collaboration you don't see too often in the world of healthcare. The UI I designed on the software side provided an intuitive guidance system for physicians to select the correct tests for their patients. Read about my work on the Generation Software project.
BRAND AND UX STRATEGY
Initially, I worked with Genection on brand strategy. We contemplated the experience. We discussed what might make a physician step outside of the the confines of the hospital software to use Genection? For IVS it was a no-brainer as these genetic tests could not be ordered from existing hospital software because most were not covered by insurance and existing hospital software only allowed the ordering of tests covered by insurance. But, asking physicians to not only go out of their way to use Generation, but also trust this new company with sensitive patient information was no easy feat.
I developed user personas. We knew that since physicians take an average of a decade to adopt a new product, patients would need to be the drivers of the product. We explored what it might look like to empower patients with the ability to research their disease and determine the best tests available to them and possibly pair them with clinical trials. With thousands of genetic tests available from hundreds of labs, Genection could be a game changer. We worked closely with the Genection team and external medical advisors including genetic physicians, labs and HIPAA consultants. The field of genetics is advancing at such a rapid pace that physicians don't have time to keep up with all the tests available for their patients.
Naming
The name Genection was chosen after several names were discussed, a perfect fit, as it speaks to connection genetics with patients, physicians, and hospitals. Finally, a true collaboration in the medical world.
Logo Design & Messaging
The logo concept is a modern take on test tubes. As with all logos, the font, colors and symbol were carefully selected based upon the brand strategy and overall experience. "We Navigate for You," was part of the messaging developed and represented how this software would navigate thousands of tests across multiple labs, worldwide, and deliver a testing plan for physicians based on the diagnosis.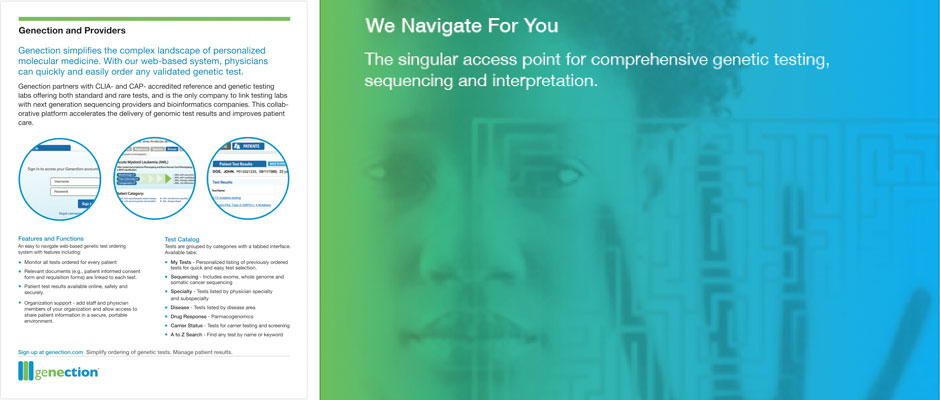 I developed a design language system to utilize the "test tubes" across all touch points. Genection has gone through a few iterations since launching the site three years ago, but the logo and design language system, as well as many of the original graphics and copywriting have stood the test of time.


Services provided: brand strategy, content strategy, all visual design and writing for both the physical and digital space.
I also worked on the Genection software from inception through launch. Please see the Genection Software project for more information.